Local attractions
This part of Cornwall has an endless list of Beaches, walks and other attractions all within an easy driving distance of the cottages.
The national Trust has a high concentration of properties including magnificent country houses, spectacular gardens in lush wooded river valleys and picturesque coastal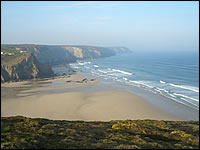 areas with walks to enjoy the scenery.
As Cornwall has been a popular holiday destination for many years, there are numerous theme park attractions for children. The newest and most popular tourist attraction, The Eden Project, is open throughout the year.
There is a rapidly expanding network of footpaths and the coastal footpath can be walked completely around Cornwall, or accessed at any convenient cove or coastal village. The Mineral Tramways - a coast to coast walk - passes within 100 metres of the cottages.
The list of things to do and see is far too vast to list here but the one overriding factor is that everything is relatively close in this part of Cornwall, so you can enjoy a good day out without the annoyance of a long drive.
Facilities
Supermarkets, local shops, restaurants, pubs, theatre, cinema, leisure centre, chemist, newsagent, video rental, can all be found within a short drive from Engine House Cottages.
Links